Panipak "Tennis" Wongpattanakit of Thailand won another gold medal in taekwondo at the 2023 Asian Games in Hangzhou, China, by defeating Guo Qing of the host country.
Physical agony was a hardship "Tennis" had to bear, but she put off surgery so that she could compete in the Asian Games one last time.
Her status as the finest female taekwondo athlete in the world in her weight class is now widely known in Thailand. However, when she first became popular, many people didn't understand what sport she competed in. Her father, a sports fanatic, gave her the moniker "Tennis"; this prompted speculation as to whether or not she actually played the sport.
Tennis advanced to the semifinals of the Asian Games after beating Tamang Anjali of Nepal 2-0 (scores: 12-0, 10-0).
She progressed to the semi-finals by sweeping Taiwan's Jhuang Tien Yu 2-0 (6-1 and 11-7).
She won the semi-final match against Uzbekistan's Mannopova Madinabonu by a score of 2-0 (2-1 and 8-7).
Despite ligament injuries, Tennis fought back from a set down to win the gold medal match 2-1 (scores of 7-6, 1-2, and 12-9).
There were tears of joy for her victory and anguish she had to bear. Since even before the Asian Games kicked off, she had been nursing various injuries in order to take part.
Tennis's posterior cruciate ligament was constantly hurting her. Surgery, the only treatment option for a full recovery, would have needed a long six-month recovery time. She decided to just go for it and compete in the Asian Games nonetheless.
Tennis had previously stated that she planned to retire from competitive sports following the 2024 Olympics.
She has more victories than anyone else in Thai taekwondo history.
Tennis, a 26-year-old native of Surat Thani, is now Thailand's best athlete. She has won every major competition she has entered, from the Olympics to the World Championships to Grand Prix events to the Asian Games to the Southeast Asian Games.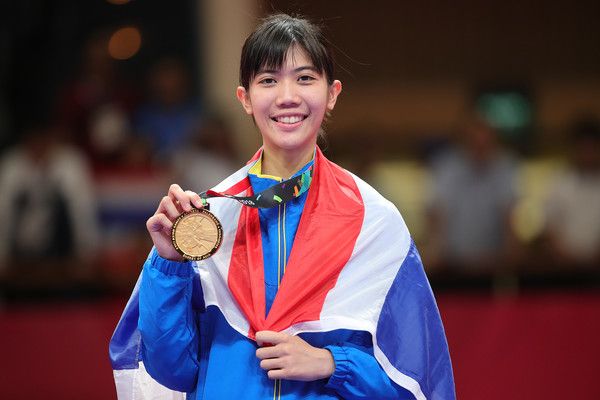 There has never been any Thai taekwondo athlete to win a World Championship in more than one weight class, but Tennis has done just that. She initially won in the under-46 kilogram division in 2015, and then in the under-49 kilogram category in January of 2018, becoming the undisputed world champion both times. In 2019, she successfully defended her under-49-kilogram world title.
She had never lost a match in the under-49 kilogram division, and she took home gold at the Tokyo 2020 Olympics.
Tennis has dominated the SEA Games, taking home four consecutive gold medals. She made her Asian Games debut at Incheon, South Korea, when she won bronze in the under-46-kilogram division. The next time she competed, at the 18th Asian Games in Indonesia, she upped her weight class to under 49 kg and won the gold.
Twenty years of dedicated practice haven't made her the best in the world, but they have changed the form of her feet.
Her abnormally shaped feet were a direct result of the years of severe training she endured. She spent her youth practicing for six or seven hours a day, and much more so right before contests, in an effort to overcome any and all obstacles.
She had to push through any discomfort she felt during competitions, training, or dealing with personal concerns, because stopping would give her rivals a chance to catch up.
I have never thought of myself as superior to anyone else. Everyone has an equal shot at success regardless of where they are in the global rankings. "But when we get to this level, you can be sure that everyone is working together to bring you down," she said.
What I can do is have greater stamina than other people. In this context, endurance refers to the ability to push beyond physical and mental exhaustion brought on by competition, training, or other stresses in life. I can't afford to rest even if we want to, because doing so would provide our opponents a window of opportunity, Tennis remarked.
READ MORE https://tkd.or.th/