"Good enough," affordable Analysts claim that because of US export restrictions, Chinese armed drones dominate the global market.
More and more militaries around the world are acquiring Chinese combat drones and using them in war, from Saudi Arabia to Myanmar, Iraq, and Ethiopia.
Unmanned aerial vehicles (UAVs), sometimes known as Chinese aircraft, have been sent to Yemen by a Saudi-led coalition as part of a bloody air war that has claimed more than 8,000 civilian lives in Yemen over the course of the last eight years.
As of mid-2018, according to Iraqi authorities, they had employed Chinese drones to launch more than 260 airstrikes against ISIL (ISIS) targets, with a success rate of about 100%.
In Ethiopia, Prime Minister Abiy Ahmed's fleet of Chinese, Iranian, and Turkish drones was instrumental in assisting his forces thwart a rebel march in 2021 that threatened to overthrow his government.
In Myanmar, the military has launched hundreds of airstrikes against civilians and ethnic armed groups opposed to its power grab two years ago.
Morocco, Egypt, Algeria, the United Arab Emirates (UAE), Pakistan, and Serbia are a few more nations that have purchased Chinese combat drones, which are aircraft that are capable of both gathering intelligence and firing air-to-surface missiles.
China is the world's top exporter of combat drones, having shipped 282 of the weaponized aircraft to 17 different nations in the last ten years, according to data from the Stockholm International Peace Research Institute (SIPRI), which keeps track of international arms transfers.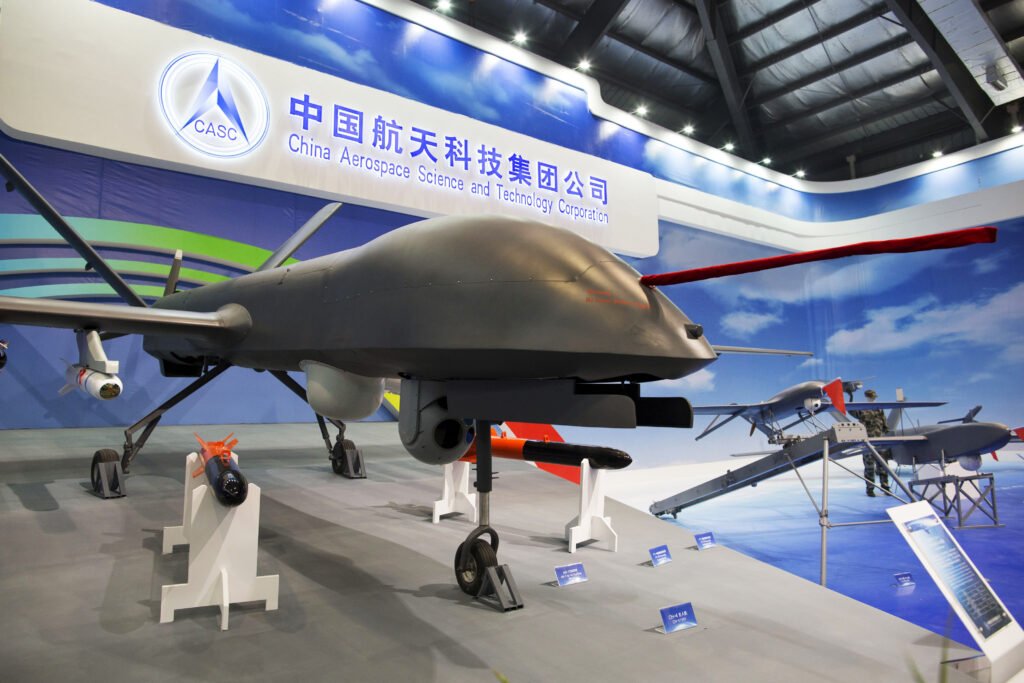 In contrast, the United States, which is home to the most sophisticated UAVs in the world, has only shipped 12 combat drones in the same time frame, all of which have gone to France and the United Kingdom, according to SIPRI data.
However, the US continues to take the lead in the export of unarmed surveillance drones.
Over the past ten years, China has dominated the worldwide market for combat drones in part because of a massive, state-funded initiative to upgrade the nation's armed forces to "world class levels." Drones have the potential to "profoundly change war scenarios," according to Chinese President Xi Jinping, who also promised to "accelerate the development of unmanned, intelligent combat capabilities" at the Communist Party Congress last year.
According to John Schaus, senior fellow at the Center for Strategic and International Studies, "drones constitute a key component of China's informatized military philosophy" (CSIS). According to him, "advanced capabilities" like these enable China to carry out missions outside of its boundaries with much lower infrastructure or political risk than if its military men were physically present.
Although China is not known to have carried out a drone strike, it did use the combat aircraft in exercises around Taiwan in September during the arrival of Nancy Pelosi, the then-US House Speaker, to the self-governing island.
China regards Taiwan as a part of its own country and hasn't ruled out using force to annex the island.
Additionally, drones will be crucial in any conflict over Taiwan.
Chinese military aviation expert Fu Qianshao predicted in September that unmanned aircraft would be among the first weapons used in the event of a conflict in the Taiwan Straits.
Western analysts also predict that the People's Liberation Army (PLA) will likely use a large number of drones at the start of any conflict in an effort to overwhelm the territory's air defenses.
Just adequate
According to Akhil Kadidal, an aviation reporter for Janes, a media agency specializing in defense problems, China's drone program has primarily focused on copying the capabilities of other nations thus far. These include tools for electronic warfare, attack, and surveillance.
He pointed out that the most popular drone in China, the Caihong 4, is essentially identical to the US-made MQ-9 Reaper and that the MQ-1 Predator is comparable to the Wing Loong 2. "Many of Beijing's UAV programs point to the desire to develop a more effective platform than its Western competitors.
Examples of these, according to Kadidal, are the Wing Loong 2 and 3. According to Chinese comments, both of these UAVs are not only quicker than their American equivalents, but they are also reportedly able to carry more armaments.
The Chinese drones are far less expensive than US-made drones despite having a similar design and functionality, which makes them more appealing to purchasers worldwide. For instance, CSIS, a US-based think tank, estimates that the CH-4 and Wing Loong 2 will cost between $1 and $2 million, whilst the Reaper will cost $16 million and the Predator will cost $4 million.
Due of the lower price, interested governments can purchase several drones at once.
"On a like-for-like basis, Chinese systems are probably more affordable and less capable in some respects, but the latter may not be a concern for many of the purchasing states, where the capability offered is good enough," said Douglas Barrie, senior fellow at the International Institute for Strategic Studies (IISS).
Additionally, China offers potential customers various payment periods.
According to Zhou Chenming, a Beijing-based analyst, "Chinese companies realized that those countries in North Africa are not rich, and they allowed them to not only pay not in cash but by instalments, and sometimes even to barter drones for local natural resources like minerals," he said in a previous interview with the South China Morning Post.
However, researchers claim that export restrictions enforced by the US are the main reason why nations are flocking to China. Washington places restrictions on the sales of its combat drones by referencing the Missile Technology Control Regime, a pact made in 1987 to stop the spread of delivery systems for CBRN weapons.
According to reports, it turned down requests from Jordan, Iraq, and the United Arab Emirates for weaponized aircraft, causing these nations to purchase drones from China in their place.
Franz-Stefan Gady, senior fellow at IISS, said that China places less limits on end-user usage.
This implies that nations buying UAVs have the freedom to use them however they see fit, he argued, even though doing so would be against the law and violate human rights.
For China, meantime, the deployment of its drones by other nations on battlefields gives it useful feedback to improve the equipment's capabilities.
And while the US still has a technological lead in UAVs, some observers believe China might catch up quickly. "Many of China's unmanned programs are by their very nature technology demonstrations meant to support homegrown innovation.
Local businesses participate in these programs to improve their prototyping, development, and production capabilities, according to Kadidal at Janes. "However, China has shown to rapidly mature the platform for recruitment into the armed forces once the concept has proven to be viable."
The Wing Loong 10 UAV was introduced at a recent air show in the Chinese city of Zhuhai, Kadidal noted. He said that the drone was unveiled by the PLA Air Force in its own colors, indicating that the unmanned aerial vehicle (UAV), which is reported to be capable of conducting electronic warfare missions, had been put into service.
In just six years, he claimed, the development of this UAV had advanced from the idea stage to the point of introduction.