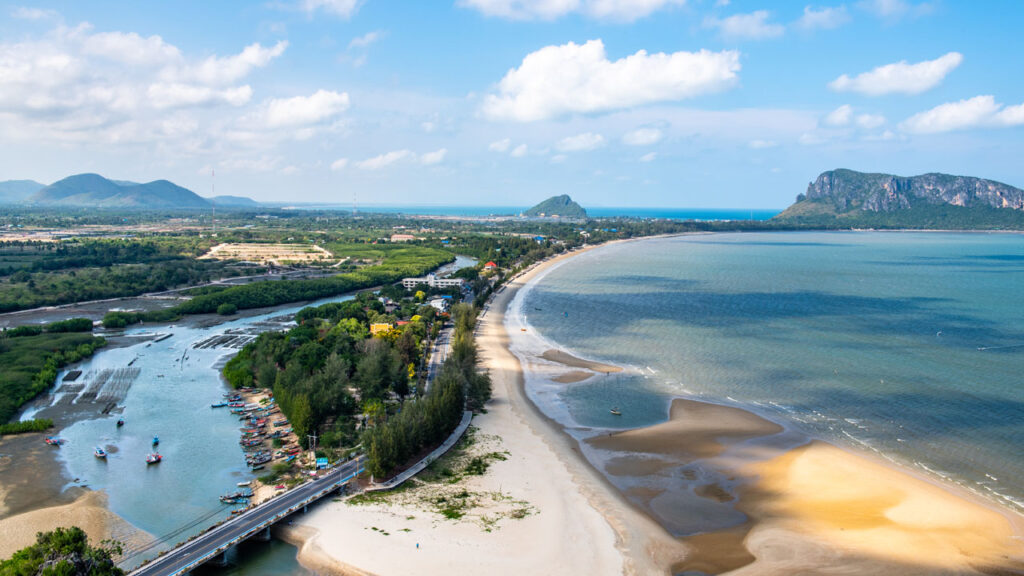 It's incredible! On the way to the market, I saw old-style houses and hawker stalls selling local food. People here flock to the market before starting their day. This is where life starts every day. If you need to buy food, you can choose from congee, Classic Thai coffee or even coconut milk pancake in Thai style….
In Thailand, apart from coming to the market to get food, Thai people also like to make merit by giving alms to the monks, or as we say in Thai,. This Buddhist morning ritual has been a tradition and practice in Thailand for centuries. Everyone can participate, offering food to the monks and receiving in exchange a Sanskrit prayer as a blessing. Since I am also Buddhist, this practice is meaningful to me too. And so I pray to have blessings and good luck for me and my team as well as for our viewers. All of these are the charms of Thap Sakae!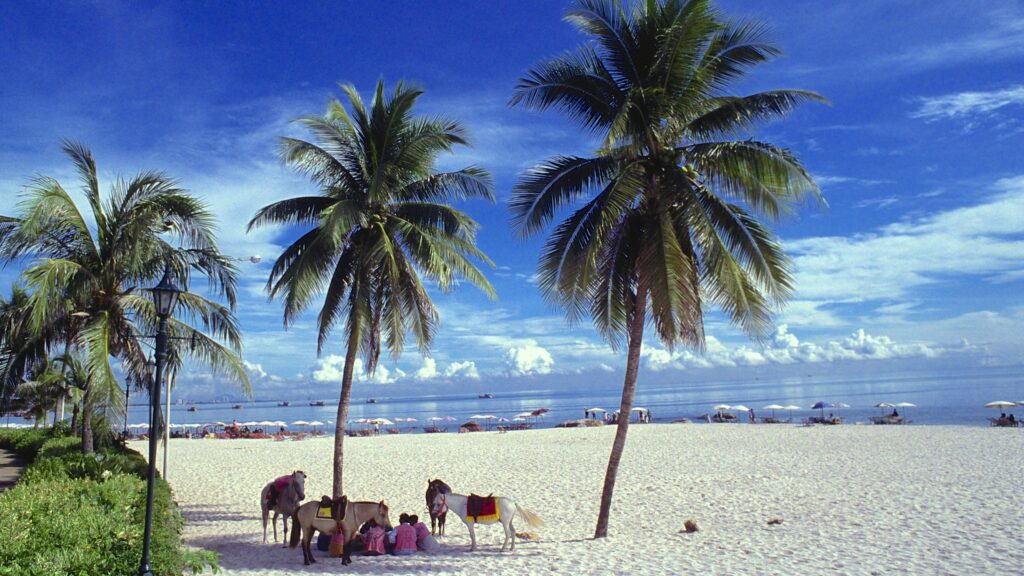 Thap Sakae is attractive in many ways. One landmark you should not miss is the "Thap Sakae Wooden bridge". The long bridge itself is almost 100 years old, jutting into the sea, which once served as a fishing jetty. Unfortunately, a few years ago it was hit hard by a tropical storm and got destroyed. You can still experience the classic atmosphere and the good old memories of Thap Sakae.
Next to the bridge, I recommend you to visit Pices Cafe, a modern loft coffee shop across the sea,
Enough of resting. I am now heading to another unseen spot "Wat Thung Kled", known locally as "coin baht temple", which in English means "One Baht coin temple".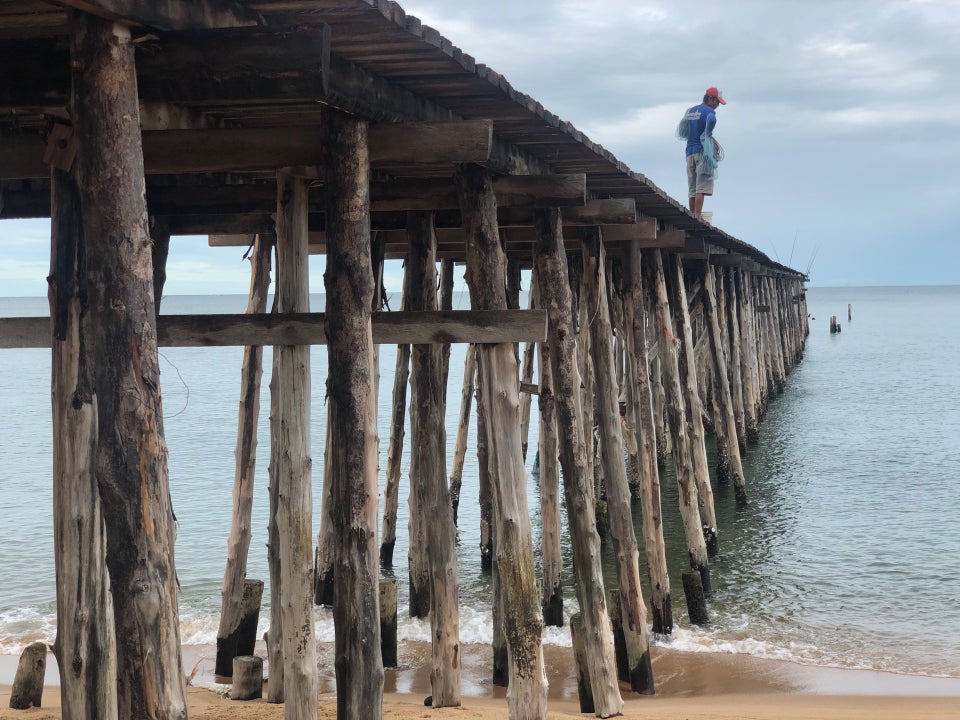 Wooden bridge, Thap Sakae, Prachuap Khiri Khan, Thailand
This temple got its name because it is the first temple in Thailand decorated with coins. Its external walls are decorated with "one baht coin", worth approximately over 3 million, while its internal walls are decorated with "ten baht coins" worth approximately three hundred thousand baht. The temple ceiling is made of golden teak while the floor is granite.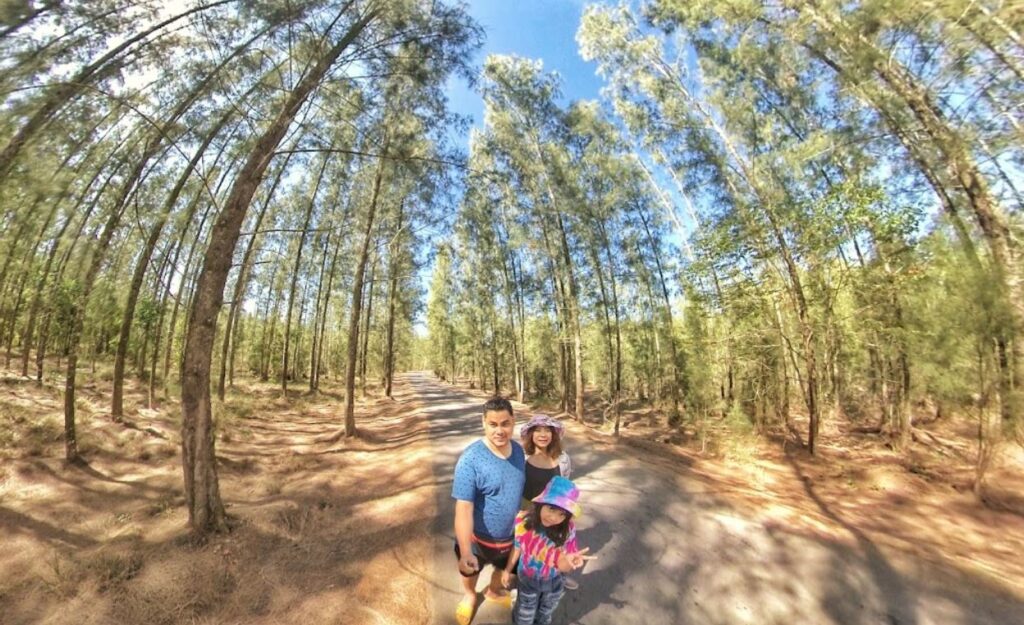 The next stop on our Thap Sakae trip is "Mining Pine Forest". This long 1km road is surrounded with beautiful views of pine trees. The place may not match the celebrated images of pine trees in cold countries, but for Instagrammers, this check-in could be one way to increase the likes on your social media platform!
Baan Mueang Rae Pine Forest, Thap Sakae, Prachuap Khiri Khan, Thailand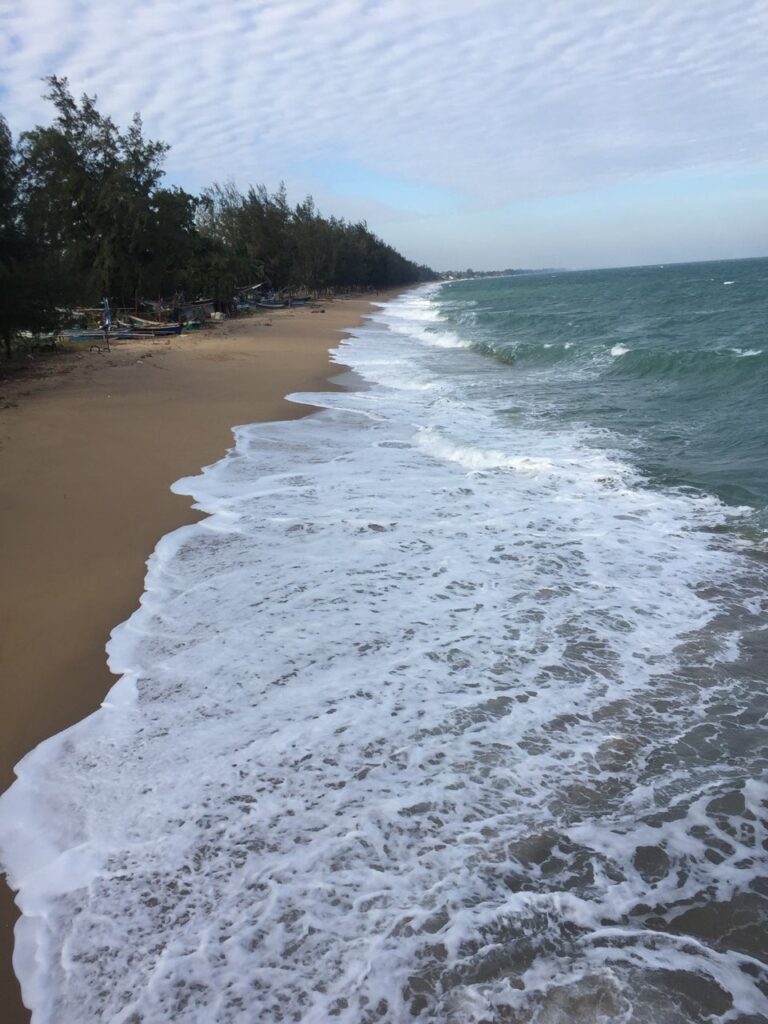 Thap Sakae stands out not only because of its beauty, but also as one of the top places in Thailand for producing coconuts. HerThe local coconut breed, "Nok Khum", is popular amongst chefs and for fine dining here. The coconut has a GI, or Geographical Indication – a name or symbol that represents products originating from specific locations, where products derive their unique quality and reputation, as well as to represent a brand of a locality signifying a product's quality and place of origin.
When you plan your next holiday, think of Thap Sakae! Because it's beautiful, affordable, the local people are friendly, and most importantly – it's unique and fun!
Sunrise, Thap Sakae Beach, Prachuap Khiri Khan, Thailand