The Australian Open final will feature Elena Rybakina versus Aryna Sabalenka.
The Australian Open final will feature Aryna Sabalenka and Elena Rybakina after both players won their respective semifinal matches in straight sets.
Rybakina outlasted two-time winner Victoria Azarenka, winning 7-6 6-3 in just over an hour and 40 minutes. Sabalenka stopped the magical run of unseeded Pole Magda Linette, winning 7-6 6-2 to advance to her maiden grand slam final at the fourth attempt.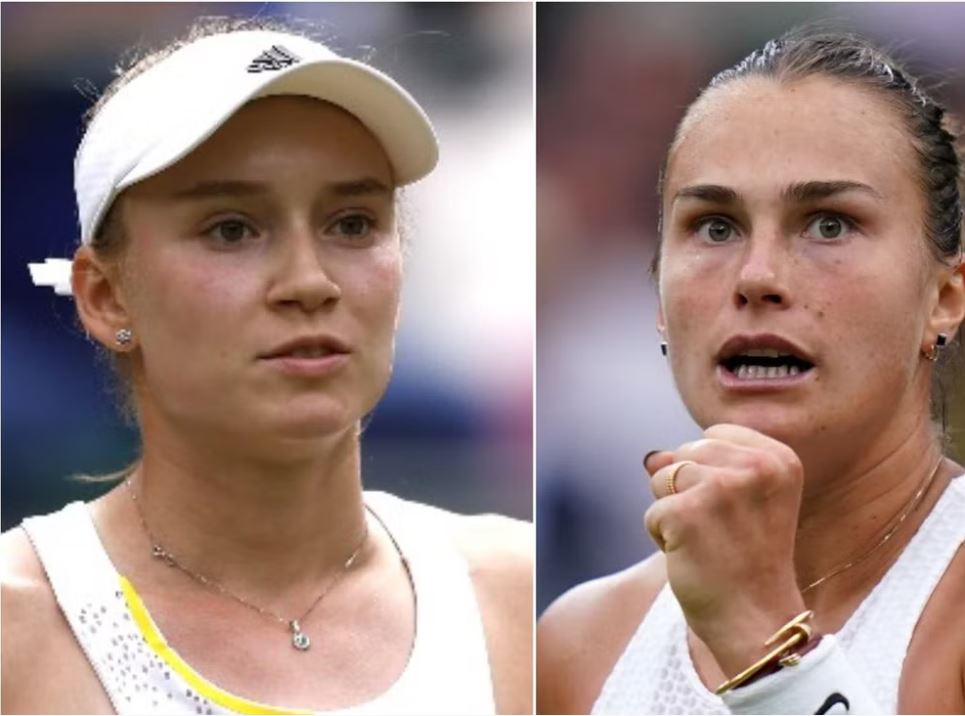 After winning Wimbledon last summer, the powerful Rybakina has already advanced to the final of the last two grand slams. At only 23 years old, she will probably continue to be a force on the WTA Tour for many years to come.
The Kazakh player, who was born in Russia, has a nearly unbeatable game when everything goes right. If she can maintain the consistency to match her strength, her fierce serve and thunderous groundstrokes allow her to easily command points.
In the opening set, the tides of momentum went back and forth, and the more seasoned Azarenka appeared to have the upper hand going into the tie break, but Rybakina found her serve when she needed it most to take a vital lead.
Azarenka was broken three times in the second set as Rybakina advanced to her second grand slam final. The second set was a bit easier. In her post-game interview, Rybakina expressed her extreme joy and pride with her team, adding that it would have been challenging to be present without them.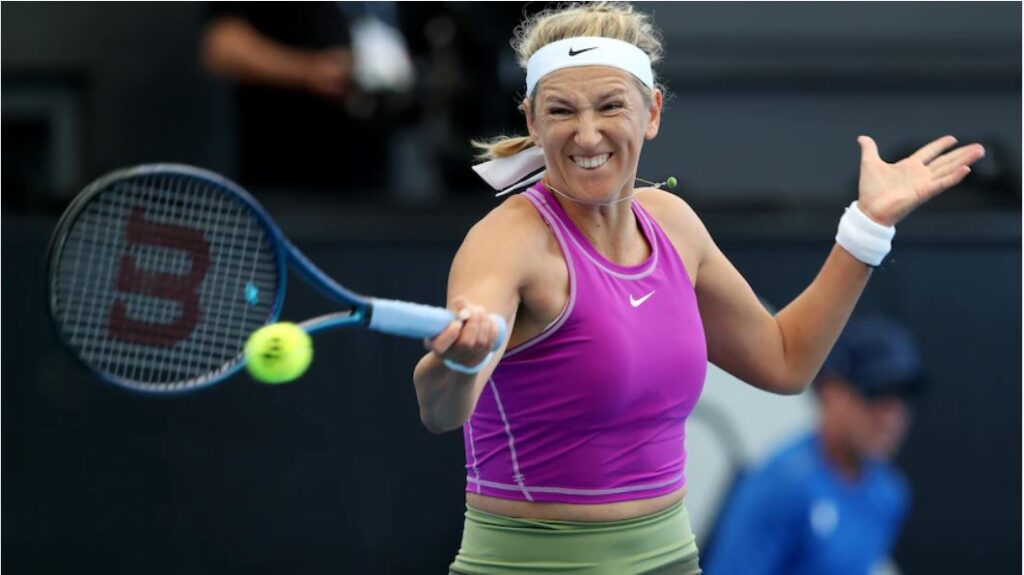 And I want to thank you all so much for creating such a wonderful atmosphere. I'm overjoyed to have made it to the final and to have played here once more.
I've had some experience from Wimbledon, and I want to enjoy the atmosphere and the moment on court because it's incredible to play in front of you guys. We'll see how it turns out, but I'll definitely give it my all. I'll fight, and I'll hopefully prevail. hefty hitting
According to Eurosport, Rybakina has received unreturned serves on 53 percent of her serves during this competition, which is the highest percentage in both the men's and women's draws at the Australian Open this year.
After nervously committing a double fault to start Thursday's semifinal, Rybakina fired off four unreturned serves, three of them aces, to finish the game and elicit a giddy cheer from the spectators.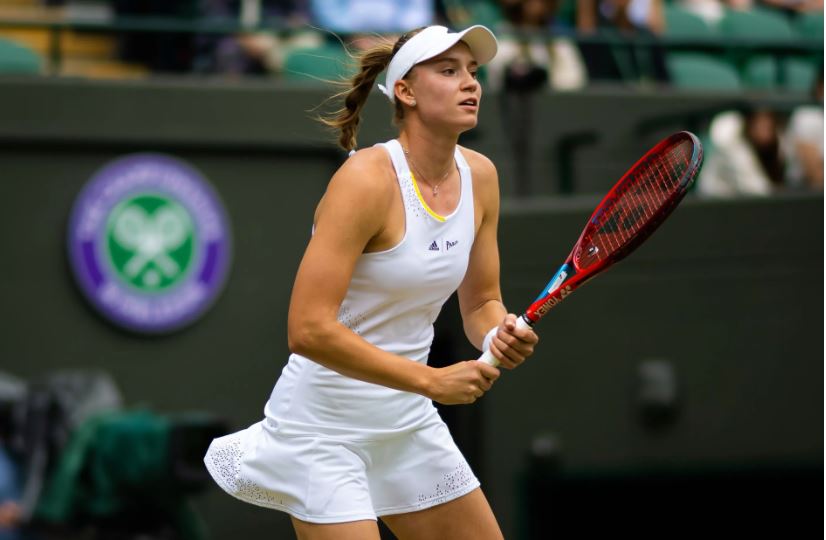 Rybakina had won 6-3 6-4 at Indian Wells the previous year in their only previous Tour encounter.
Rybakina had to defeat former grand slam champions Jelena Ostapenko and world No. 1 Iga Wiatek twice to get to this point, and she had to do it once more to advance to Saturday's final.
In the first games, Rybakina's serve appeared unbeatable, but Azarenka's brilliant return gained her a break to go 3-2 up — only for her opponent to break back right after.
In a first set of tennis that was both beautiful and close, there wasn't much to choose between these two players because they were both striking their groundstrokes with incredible force and precision.
By breaking Azarenka's serve to lead 5-3 and offer herself the opportunity to serve out the opening set, Rybakina appeared to have made the crucial breakthrough.
But perhaps for the first time, the 2022 Wimbledon champion realized the gravity of the situation as her first serve abruptly failed her, allowing Azarenka to break back at the first opportunity and promptly tie the match at 5-5. Azarenka was once more given the opportunity to break serve since Rybakina's first-serve percentage, which had been as high as 75% to start the set, had suddenly dropped to 48%.
The world No. 25 is renowned for having a calm demeanor; in fact, her famously understated celebration after winning Wimbledon last year made headlines all over the world. However, her frustration started to simmer just a little bit when she hit a ball into the ground out of anger after another missed serve.
She saved three break points from 0-40 down, which is a testament to her mental toughness. This forced Azarenka to serve to force the opening set to a tie break.
Rybakina's coach did little to ease the tense atmosphere by yelling at her with an annoyed expression every time she missed a shot, but she managed to hold on in the tie break to win the first set.
After the game, she remarked of her team, "Of course they were nervous because they want me to play well. "Today was a bit more difficult for me. Although the ball wasn't moving as quickly, I tried my best to win despite being unable to play aggressive tennis.
In the second set, Rybakina once more established her first serve. She also broke Azarenka twice to build a commanding 5-2 lead and gave herself a chance to serve for the match.
But as Azarenka stepped up her game to return one of those breaks of serve, she appeared as though nerves got the best of her and she tightened up.
However, Rybakina wasn't to be stopped for long as she broke Azarenka's serve three times in the set to secure her spot in Saturday's final.
Big hits vs each other
Two of the Tour's greatest hitters and two players who absolutely outclassed their semifinal opponents appear to be matched up in Saturday's championship match.
After losing her three prior grand slam semifinal matches, Sabalenka was even more determined to snap that streak on this particular night.
Following a difficult first set, Sabalenka improved to a level that Linette could not match in the tie break, winning 7-1. As Sabalenka's relentless power proved too much for Linette to handle, the pattern persisted in the lopsided second set.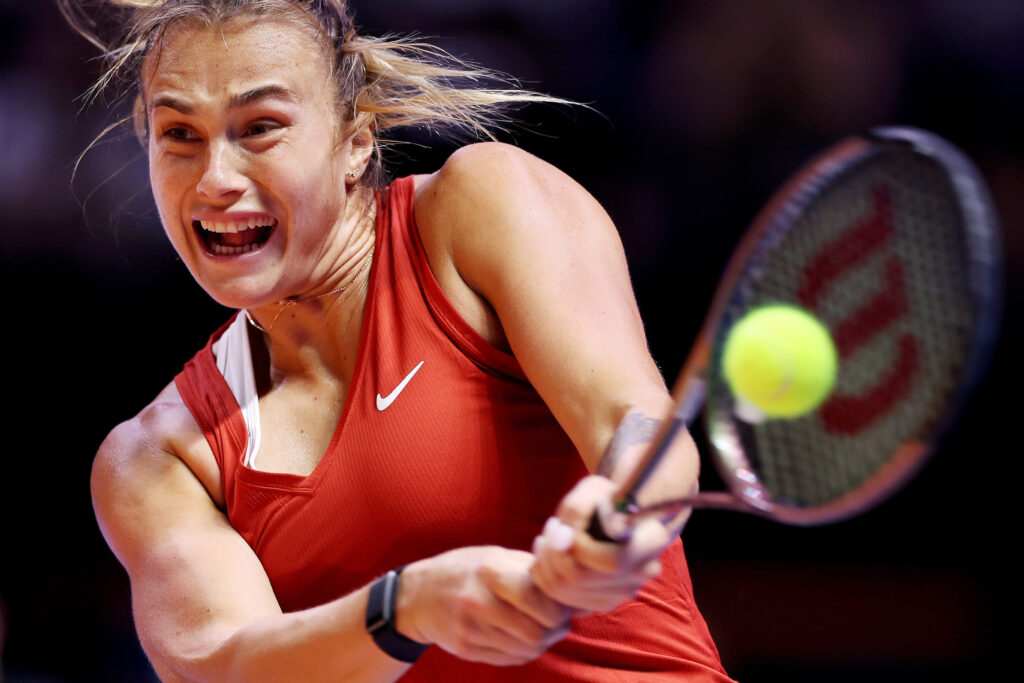 Sabakalenka said in her post-match interview, "I'm really thrilled that I was able to achieve this win, she's a terrific player, and she played incredible tennis." "I'm just so joyful right now.
"I would say that I didn't start out really well, but in the tie break, I got into a groove, began believing in myself, started taking shots, and the tie break was tremendous tennis from me.
It's great to experience this atmosphere on these kind of courts and be in the final of this kind of competition.
In the first set, which was stressful since both players were under pressure to win the match right away, Sabalenka and Linette traded early breaks of service.
Linette, who was competing on the largest platform of her career, was in no way intimidated by the situation. She held serve twice, at 4-5 and 5-6, to stay in the set and force a tie break.
She had done well up to that point in soaking up most of Sabalenka's might, occasionally using it to return powerful groundstrokes of her own, but was eventually defeated in the tie break.
When the stakes were highest, Sabalenka appeared to shift into another gear, her forehand in particular causing significant damage as she ultimately shattered Linette's will. Sabalenka's unwavering power provided her an essential first-set advantage, and Linette only managed to earn one point in a lopsided tie break.
She then encountered a difficult challenge in the first service game of the second set, but she persevered to record a point, just as she had done throughout the tournament.
Linette's performance in the second set would end there, though, as Sabalenka continued to play at the same level as in the tie break to win four straight games and surge to a 4-1 lead.
In Sabalenka's following service game, Linette did generate three break points, but the Belarusian closed the door on each one to advance by one game to the championship.
To her credit, Linette persevered as she has throughout the tournament and resisted three break points, forcing Sabalenka to serve the remainder of the match.
She successfully accomplished it after a jittery start, earning a spot in the grand slam final she had long desired.