A father from Australia broke the previous push-up world record by performing 3,206 in a single hour, which works out to 53 per minute or almost one per second.
It is the fourth time a new record has been set for the accomplishment in the past three years. Lucas Helmke surged through the push-ups at his neighborhood gym in Brisbane to claim the title set by another Australian guy just last year.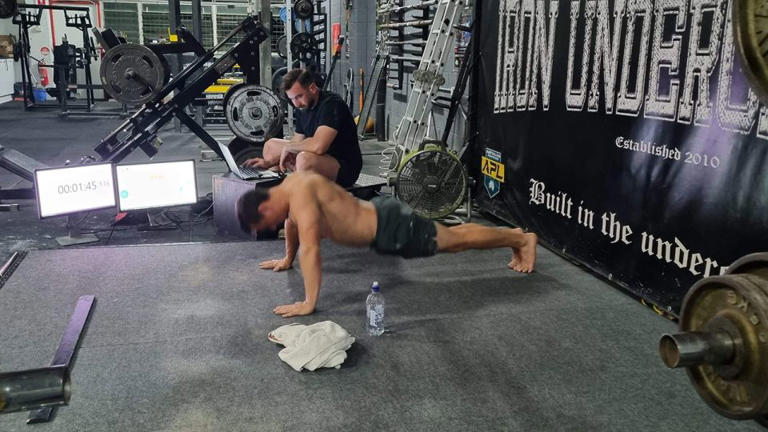 The 33-year-old father, an accountant by profession, stated to Guinness World Records that he intended to "provide inspiration" for his 1-year-old kid by demonstrating to him that "nothing is impossible."
The requirements for an official world record needed each push up to be perfect.
Helmke was expected to lower himself to at least a 90-degree angle at the elbow while maintaining a straight body on the way up, without bending his knees or waist. He was penalized 34 pushups for using poor form, but he still managed to surpass record-setters who came before him.
Daniel Scali previously held the record, performing 3,182 push-ups in April 2022.In November of last year, Helmke broke the record at the Iron Underground gym, and he recently received word from Guinness World Records that his record had been accepted. Previously held records were held by two other Australians.
Last month, he posted the certificate to Facebook and stated, "This one finally came through."
Helmke revealed to Guiness World Records that it took him two to three years to develop the physical stamina necessary to do the remarkable achievement.
It is uncertain how long his record will last given the opposition. In March, local media in Florida stated that American Rob Stirling, 60, had completed 3,264 push-ups by the end of the previous month. However, Guiness has not yet verified this claim.
Helmke is already focused on breaking additional records in the interim.
Out of several other push-up records, Lucas said, "This will be the first record I wish to set." Onto more physical records after that.